TheBookSearch (aka DieBuchSuche) - the search engine for all books.
All books for 9780323154116 - compare every offer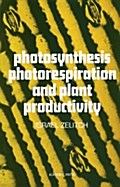 Photosynthesis, Photorespiration, And Plant Productivity
(?)
ISBN:
9780323154116 (?) or 0323154115
, unknown language, Elsevier Science, New
From Seller/Antiquarian
Photosynthesis, Photorespiration, And Plant Productivity: Photosynthesis, Photorespiration, and Plant Productivity provides a basis for understanding the main factors concerned with regulating plant productivity in plant communities. The book describes photosynthesis and other processes that affect the productivity of plants from the standpoint of enzyme chemistry, chloroplasts, leaf cells, and single leaves. Comprised of nine chapters, the book covers the biochemical and photochemical aspects of photosynthesis respiration associated with photosynthetic tissues and photosynthesis and plant productivity in single leaves and in stands. It provides illustrated and diagrammatic discussion and presents the concepts in outlined form to help readers understand the concepts efficiently. Moreover, this book explores the rates of enzymatic reactions and the detailed structure and function of chloroplasts and other organelles and their variability. It explains the mechanism of photosynthetic electron transport and phosphorylation and the importance of diffusive resistances to carbon dioxide assimilation, especially the role of stomata. It also discusses the importance of dark respiration in diminishing productivity the differences in net photosynthesis that occur between many species and varieties and the influence of climate to photosynthetic reactions. The book is an excellent reference for teachers, as well as undergraduate and graduate students in biology, plant physiology, and agriculture. Research professionals working on the disciplines of plant production and food supply will also find this book invaluable. Englisch, Ebook
Seller order number: 9780323154116
Platform order number Rheinberg-Buch.de: 18889_229626_9780323154116
Data from 11/08/2015 00:21h
ISBN
(alternative notations): 0-323-15411-5, 978-0-323-15411-6
9780323154116
Find all available books for your ISBN number 9780323154116 compare prices fast and easily and order immediatly.
All available offers from "og_title" find at TheBookSearch (aka DieBuchSuche).
anbindung englisch selbstbewusstsein stärken buch